Founded in 1984, Merit Electric, Inc. is a full service design/build electrical contractor operating throughout the front range of the Colorado Rockies and Southern Wyoming.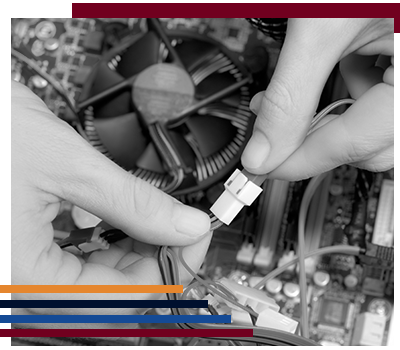 Our Services Include:
New Construction

Planning & Scheduling
Manpower Projections
Training and Communications

Building Automation System Controls
Service and Maintenance
Remodel and Retrofit
Pre-construction Services (Design/Build)

Concept Design and Budgeting
Value Engineering and Cost Benefit Analysis

Safety Program
Warranty Process
Services
full service design/build electrical contractor
Merit Electric, Inc. has been working new construction for over 35 years. Our projects include office buildings, medical facilities, retail and commercial buildings, manufacturing, and warehouses. Most of these projects have been constructed as a part of the design/build process. As such, our construction department and crews are committed to carrying out the value-added processes begun in our pre-construction areas. The value we add to the process can be broken down into the following main categories of emphasis:
Planning and Scheduling
Critical to the success of any complex endeavor is the ability to plan out the entire process and then schedule the appropriate resources for each task involved. This is no less critical to the construction process where project schedules are not only necessary to completing the project on time, but completing the project within budget. At Merit Electric, Inc., we are committed to both. We have created systems in-house for scheduling and tracking labor on every project. This keeps us competitive, sharp and productive. We train and include every field employee in the scheduling process. This gives them "ownership" in the project and its success.
Communications are also critical to a project's success. It is necessary to coordinate activities with the other trades in such a way that there are no conflicts in process and that every process occurs in the proper order. Our crews are also trained in how to coordinate the planning and scheduling processes with communications to the other trades.
Manpower Projections
Merit Electric, Inc. is committed to managing the relationship between incoming work and our labor capacity to avoid problems meeting schedules and to provide steady employment for our workforce. We have developed in-house tools to forecast labor demands up to 18 months into the future. These tools allow us to respond properly to the demands of each project and customer.
The following is an example of one of our tools showing projected labor demands:
Training & Communications
Training is critical to maintaining a safe and productive workforce. It is crucial for the company as well as the individual. We are proud of our training program for foreman, journeyman and apprentice electricians. We employ a full-time training coordinator whose responsibility it is to institute and maintain all of Merit Electric, Inc.'s training programs. These programs include on-the-job training, seminars at the office or jobsite or on-going educational classes. In addition to these, we also offer outside training through the Independent Electrical Contractors Association and The Construction Industry Training Center or through local community college programs.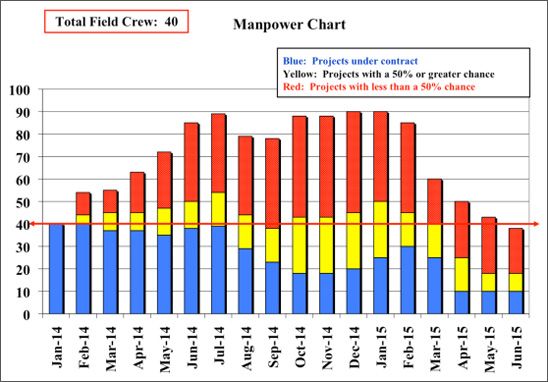 With two service departments, one located in our home office in Fort Collins and the other located in the Denver metro area, our customers are assured timely service. Our fleet of vehicles is modern and fully stocked to meet just about any service need. The priority for our service departments is delivering prompt, quality service to existing customers developed through the original design and construction of their facilities.
Why remodel your existing building, or retrofit your existing electrical systems? For many customers the answer is simple, "that is where the value is." Many simply have too much invested in their existing infrastructure to abandon it for new. Still, with needs to grow and expand, the only practical solution often is to improve upon, or add to what they currently have. At Merit Electric, Inc., we understand this perfectly and offer a variety of services to meet customers' remodel or retrofit needs.
Pre-Construction Services (Design/Build)
Why Design/Build?
Suppose the following process were necessary before you could eat out at a restaurant: You first meet with a "dinner consultant" to discuss your dinner desires (décor, recipes, budget, etc.). While they begin the design of your dinner décor, they hire a "dinner designer" to begin creating your dinner recipes. Various other consultants are hired to design your dinnerware, your glassware, your dinner linen, etc. In time, your "dinner consultant" informs you the design of your restaurant experience is complete. Now you must get bids from various restaurants to find out which restaurant you will be eating at and how much your experience will cost. Your "dinner consultant" creates a set of "dinner criteria" based on their final design and solicits restaurants for costs to create what they have designed. A number of bids are received and you select a restaurant based on final cost (assuming it fits your budget). Several weeks later, your "dinner consultant" escorts you to the restaurant where the owner's personnel have put together the décor and recipes according to your consultant's specifications. You enjoy your meal. The bill arrives, but you find it is a lot more than you were led to believe. Salad dressing, croutons, condiments, steak sauce, drinks; all cost extra. The restaurateur explains they were not specifically mentioned and that in order to be the lowest bidder (and thereby get your business), they bid on the documentation they were given, no more, no less. They assumed you knew they were extra.
To borrow from this illustration, the design/build process assumes a person should be able to go to a restaurant of their choosing, select from a menu of dinner choices based on what they value, for a price they can afford and all in a time-frame of their own choosing. The construction process should be no different. Design/build strives to provide the following to every customer:
Choice, because every customer is unique, and so are their needs.
Value, because lowest cost isn't always the best value.
Speed, in design and construction, because money costs.
Competitive pricing with no hidden costs.
The design/build process is a process from concept, to budget, to design, to construction, to completion of warranty — and beyond. If we do our job right, you'll ask us back on your next project, as many already have.
Concept Design and Estimating
Concept Design is the process of designing a complete building electrical system, including the electrical distribution system, interior and exterior lighting, general purpose power, building attached and owner process equipment, fire alarm, telecommunications and data and other special systems, with a view to generating a thorough project budget, scope of work and design criteria. Often, the information we receive can be from as little as a "napkin sketch" or hastily drawn floor plan. Regardless of the detail of initial information, at Merit Electric, Inc., we have developed our personnel and systems to perform the complicated task of conceptual design rapidly and accurately. Our budgets are not only thorough, they are competitive, easy to understand and useful for all project decision-making needs. We utilize a sophisticated budgeting system, created in-house for pricing conceptual plans and all manner of options and alternates. Even the inevitable and frequent scope changes of the design/build process are easily handled so the budget will not get "out of control."
Value Engineering and Cost Benefit Analysis
At the heart of the design/build process is the concept of providing the best value for the customer. It takes experience, communication, and a commitment to listen to the customer with a view to providing what they value most. Value engineering is an ongoing priority throughout the budgeting and design process. Whether the owner makes decisions based on technical needs, aesthetic needs, cost needs or any combination of the three, we stand ready with tools and systems to make those decisions easier and quicker.
Contrary to popular belief, value engineering is NOT mere cost cutting. As stated above, value generally comes in three basic forms for our customers:
Technical Value is value based on function or process and is generally linked to the specifics of the owner's process that is the basis of their business. In order to provide technical value, we must have the technical expertise necessary to understand the owner's process and how best to achieve their technical goals.
Aesthetic Value is value based on perception and appearance and generally deals with the functional aesthetics of the owner's building. An example of aesthetic value is in a building's lighting system. Value conscious lighting design takes into consideration the engineering aspects of the lighting systems (glare, visibility, illumination, color rendering, etc.) as well as their aesthetic aspects (use of lighting to accentuate the building, artwork, etc.).
Dollar Value is value based on budget. Rarely do needs and wants match what an owner can realistically afford to spend. Or, monies are available, but only for a specific period of time. It is up to the design/build contractor to understand the owner's needs, wants and overall budget and how important the decision-making process is to designing a successful project within these value constraints.
Whether value is determined by electrical systems design for energy efficiency, personal productivity, appearance or cost, at Merit Electric, Inc. we stand ready with tools and systems to make those decisions easier, quicker and with greater reliability.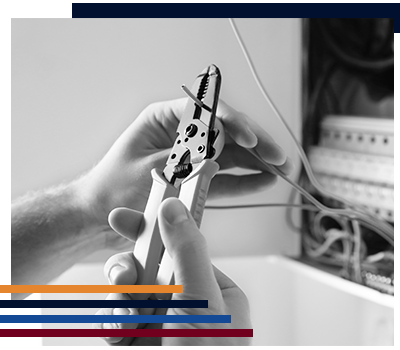 Safety Program
Merit Electric, Inc. maintains strict compliance with published safety standards to ensure that all employees have a safe work environment. Under the direction of our safety committee, our safety team has developed a safety policy manual detailing safety standards and regulations and the responsibilities of all employees. The safety policy manual addresses issues such as personal protection, hazard communication, lock-out procedures, fall protection, and the safe operation of tools and equipment.
Our Safety Program meets the requirements of the Colorado Worker's Compensation Cost Containment Program:
Formal declaration of policy.
Formal established safety committee.
Defined and posted safety rules.
Regular safety meetings.
Designated medical provider.
Claims management procedures.
In addition, our injury frequency rates have, for the past three consecutive years plus year to date, experienced a positive downward trend.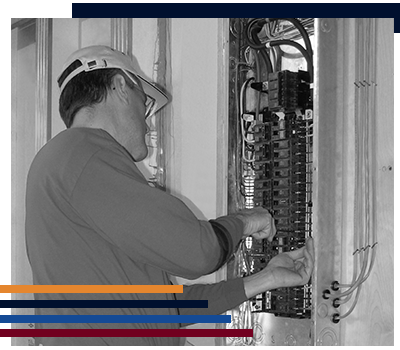 Warranty Process
We have instituted a warranty procedure as a method of demonstrating to customers our commitment to quality installations. The procedure consists of the following step:
"End of Warranty Walk-Through/Interview"
During the final month of the warranty, one of our representatives will revisit the facility to review the installation and how it is working for the customer. This is done both to ensure that warranty work is completed to the customer's satisfaction and to collect information to improve on future designs and installations.